10 Reasons Granite Is A Great Choice For Any Home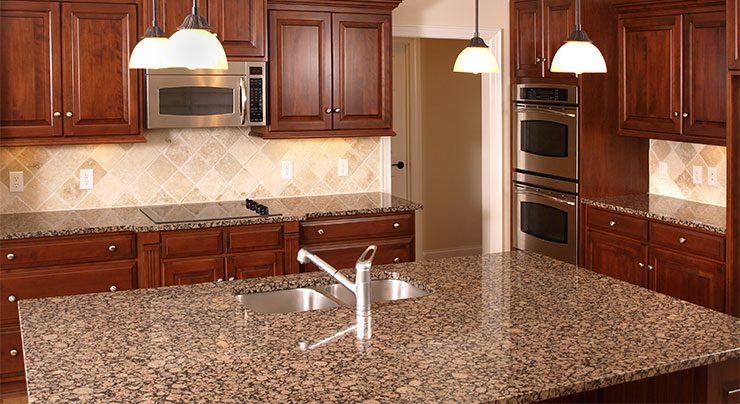 Granite is durable, gorgeous, and just plain cool. As a naturally occurring product, it is eco­friendly and incredibly resilient. It is no wonder, then, that granite is always on the top of the list when homeowners look to add value and beauty to their homes.
Below are 10 reasons why granite is a great choice for any home, regardless of location, home style, or budget.
1. Durability
Granite is a stone, and as such has the ability to withstand the everyday wear and tear that can leave other materials looking dull, chipped, and dated. A home is a heavy­traffic area. Floors, countertops, sinks – no matter is you have one person living in your home or ten, wear and tear is just part of life. Being able to count on your granite to wear well brings incredible peace of mind. You don't need to worry about it scratching if your kids play LEGOs on your kitchen counter from morning till night. You don't have to be afraid that your sink will chip if you accidentally drop a pot or break a dish. That durability is worth its weight in gold!
2. Beauty
In addition to being incredibly resistant to chips and scratches, granite is absolutely beautiful. The intricate patterns and color flecks found in each unique slab are dazzling. Pair that natural beauty with the existing décor in your home and you have a recipe for a stunning aesthetic that is completely unique to your personal style and flair.
3. Resale value
Granite is one of those things that adds instant value to your home, regardless of its size or location. Buyers love to see granite, as it gives a feeling of elegance to any space. It also wears well, helping your home avoid a dated look as time goes by. Depending on where you choose to use granite, you may get even more bang for your buck; bathrooms are an especially great place to use granite, since it makes even a small space look trendy and polished.
4. Germ resistance
Since polished granite is not a material that is very porous, it resists the growth of germs and bacteria. This is an especially beneficial feature in areas like the kitchen and bathroom, where germs are most likely to spread. If you get raw meat on your kitchen counter, for example, cleanup is a breeze, since you can simple disinfect the area and know that the
germs are not lurking beneath the surface, waiting for something to come along and lift them out again.
5. Easy to clean
No elaborate cleaning concoctions are needed to keep your granite looking fresh and clean. A simple scrub with a microfiber cloth and some warm, soapy water is all it takes to do the trick. If you want to go the extra mile, consider adding a drop of your favorite essential oil to the water for a fresh scent that will linger long after you have finished cleaning.
6. Versatile
Granite is the perfect solution to countless areas of your home. It can be used in a laundry or mud room, in a master bath or guest bathroom, in your kitchen, and even outdoors if you choose. The best part is that you don't have to change the type of granite you purchase for each of these applications – your favorite color or style will work anywhere in your home with ease.
7. Affordable
Dollar for dollar, granite is every bit as affordable as its counterparts. Sure, it may be a little more expensive in terms of the initial out of pocket expense, but the return of investment in terms of your overall home value will be exponentially more than if you purchased, say, a laminate countertop. With that in mind, granite is a fantastic and affordable investment that will reap dividends in the years to come.
8. Varied colors and grains
If variety is the spice of life, then granite is one spicy product! The natural beauty of the stone ensures that each piece is unique both in color and grain. There is definitely a look to meet anyone's unique preference or style, and if mixing and matching colors is your thing, then you can easily create a granite work of art in your home.
9. Timeless
Granite is one of those products that retains its luster and beauty for years. Whereas you can walk into a home built fifteen years ago and feel that the countertops or finishes are, indeed, more than a decade old, granite has a way of defying time and remaining as up­to­date as the day it was installed.
10. Classy
Granite is undeniably classy. It elevates even the simplest of homes into a thing of beauty, and breathes new life into even the most tired of spaces. The rich tones of the natural stone combined with the polished sheen given to each slab turns simple rock into a statement piece – one that will remain beautiful for its entire time in your home.