4 Ways to Make Your Bathroom Vanity Gorgeous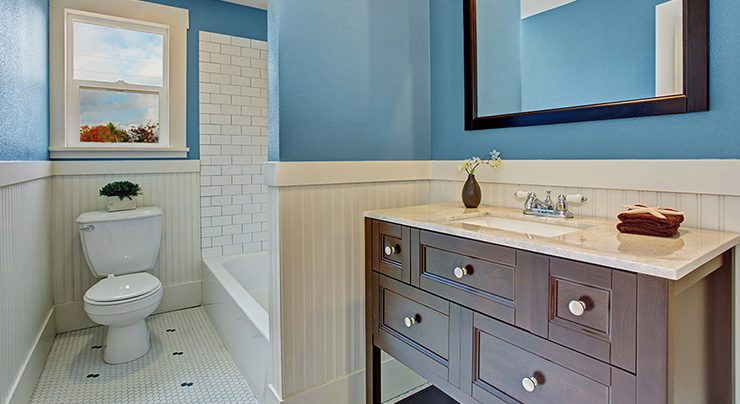 Your bathroom is generally the busiest room in your home. It is especially busy early in the morning when the family is running around trying to get ready for school and work at the same time. It makes perfect sense to have a vanity that is practical and functional while not forgetting about style and proper décor.
When you have guests arriving any minute you want each and every room in your home to look top notch especially the bathroom. Stay away from clutter because it is the nemesis of organization and a room looking well put together. Before you begin to decorate and create an awesome vanity, the first thing you want to do is grab a large trash bag. Go through every single thing in your bathroom. Don't hold back; be picky, it will serve you well. If you haven't used an item in the last 90 days – TOSS IT. Keep only the products you actually use, especially the necessities. Ask yourself if you really need three hair dryers or eight curling irons. Do you really need 10 ½ empty containers of deodorant or six kinds of shampoo? Condense the amount of products you use and kick clutter to the curb.
Now that you have a clean slate, you are ready to dive in and create the bathroom of your dreams. Below are four really great ways to make your vanity absolutely gorgeous.
Storage Design
Design is very important when it comes to any bathroom set up. As you think of the design consider the items that you need to store from shampoos, gels, toilet paper, makeup, hair styling tools, and cleaning products. Thinking of practical storage will ensure everything has a place and you won't have to store it on top of the vanity. Installation of a medicine cabinet with a mirror on the door above your vanity will give it a streamlined look. The cabinet should be tall enough to accommodate enough shelf space to hold all other items that won't fit into a medicine cabinet. Open shelving is an excellent option.
Install a New Countertop
Consider tearing out your old counter and replacing it with a brand new granite countertop, complete with a recessed sink. If you extend the countertop toward your bathtub you can extend the shelf space. The countertop you choose can really enhance the overall design of your bathroom, so select a style, color, and pattern that is both classy and durable.
Lighting
Lighting is another way you can highlight your vanity and make it look very nice. You can use overhead track style lighting or install decorative all fixtures. You can also  install a dimmer switch to make the lighting softer or brighter for other mood settings.
Add A Step-Stool
A built in stool is great idea for children who struggle to reach the faucets or the sink when they are very young. In the kickboard you can install a built in step underneath the vanity. This will save you having to purchase and store a step stool. It will also help your children feel independent because they won't need any help to reach.
There are many ways to update your vanity and create space so that it is more usable and convenient. Take some time to research the options that will benefit you the most based on your available space and budget.
A beautiful bathroom is a great step to adding value to the interior of your home. You can really let your style step forward and be showcased here. You can give a relaxed and inviting feel of a spa or you can go with a more vintage look. Your guest will enjoy using your bathroom and feel very relaxed and comfortable there, as they should.
There are so many styles available when it comes to your bathroom. You can choose from vintage, modern, or even a classical look. Choose muted colors or loud colors. The design is all up to you based on the available space you have to work with. You can really take this room to the next level. When you are preparing to take on the challenge of changing the look of your bathroom, take time to consult with the professionals and get their advice. They can help you stay within your budget to get the desired look you want to achieve. You are making an investment in the way your home looks and you want it to achieve the best end result possible.