Five Reasons Granite is the Best Choice in Countertop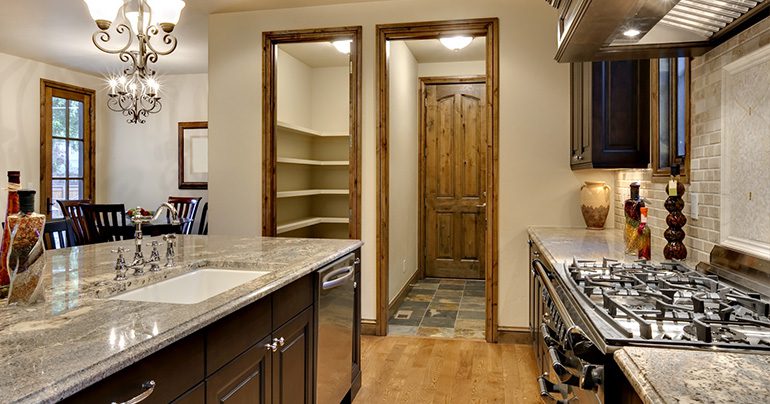 Choosing countertop for your kitchen or bathroom remodel is a big decision. That is, unless you know how amazing granite countertop is. There are many materials to consider, including quartz, silestone, wood, and laminate, to name a few. However, before you go from showroom to showroom checking out different styles and materials of countertop, it is important you discover what granite countertop has to offer and why it is the number one choice of homeowners worldwide.
1 – Durability
Granite is made from rock that naturally compresses together. The slabs of granite are then harvested from deep within the earth and cut to become countertops. In fact, there is no other natural material harder than granite except diamonds. For most people, granite is the last countertop they ever purchase, because it has the ability to last a lifetime. Furthermore, the durability and hardness of granite allows it to be naturally resistant to scratches, chips, and cracks, as well as heat. You should not constantly set hot pots and pans on your granite countertop, but if you need to on occasion, you will not damage the surface. If your countertops were wood, laminate, or other soft materials, they would easily be damaged.
2 – Easy Maintenance
During the installation of your granite countertops, it is important that you have them properly sealed by professionals. Having a proper sealant on your granite countertops will ensure their durability and longevity, as well as reduce the amount of time you need to spend taking care of them. In addition, properly sealing granite will help make it resistant to bacteria and staining. All you need to do to care for and maintain your granite countertops is wash them with warm water and a mild dish detergent. Make sure you keep acidic foods and cleaners off your countertops, and get to spills quickly. If you do use cleaners, make sure that they are specifically designed to be used on granite, and avoid the use of bleach and other harsh chemicals. This will help your sealant last longer and be able to do its job more efficiently.
3 – Increase Home Value
Perhaps one of the biggest reasons homeowners choose granite countertops is its ability to increase the value of your home. In fact, the return on investment for installing granite countertops can be as much as 100%. This means that the amount of money you spend on granite countertops will raise the value of your home by that much. In addition, if you ever decide to sell your home, granite countertops could be the decision maker for the buyer. If your home and another in your neighborhood are similar in price and square footage, but yours has granite countertops, the buyer will choose it more often than the home without.
4 – Longevity
It is true that granite countertops are slightly more expensive than other types of countertops. However, due to their durability and low maintenance, they last a lifetime. If you choose laminate, you will likely need to replace it several times over the next 20 or 30 years. However, if you choose granite, you will not have to replace it even once during that time. Those who choose wood will need to replace their countertops at least twice in that timeframe, and in some cases, granite can last two times longer than quartz or silestone. Therefore, while the price is higher now, you end up spending way less money in the long run by choosing granite countertops.
5 – Gorgeous & Elegant
If durability, low maintenance, return on investment, and longevity are not enough to convince you that granite countertops are the best choice in countertop materials, perhaps their gorgeous and elegant eye appeal will be. The natural stone, with deep veining and swirling outshines all other countertop materials. You can choose the slab of granite yourself, ensuring you will love it for as long as it will last. There are a variety of different colors, and no two slabs of granite are the same, giving each kitchen or bathroom an elegant beauty unlike any other across the world. You also have the opportunity to choose the edge style and finish, which makes your countertops even more unique.
There are a variety of different reasons why you should choose granite countertops. Take the time to consider all your options, and you will still come to the realization that granite is the number one best choice in countertop material. Make the investment during your remodeling project, and you will benefit from stunning beauty, long-lasting countertop material that raises the value of your home, and can withstand the everyday abuse taken by countertops in both kitchen and bathrooms. Allow yourself the opportunity to spend more time with your family and less time caring for your countertops. The only way to do this and have all these amazing features is by choosing granite countertops for your bathroom and kitchen.