Granite Countertops and Bathroom Vanity Cabinets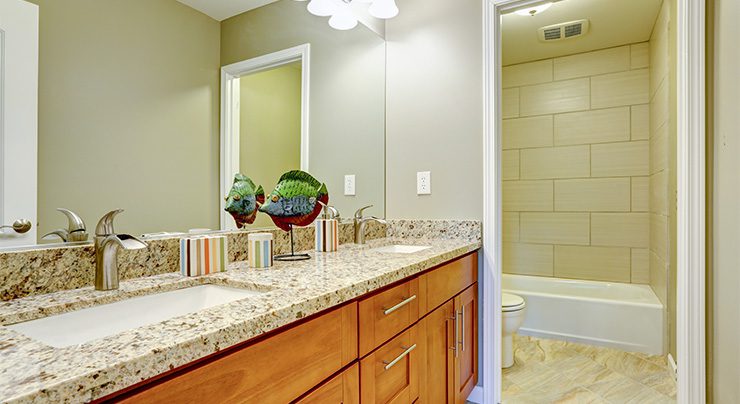 A natural stone, like a solid granite vanity top, is the perfect choice for a bathroom. It can hold up to the heat, humidity, and moisture that comes with the territory of a bathroom. A vanity top is not only necessary to help make the bathroom functional, but it is also an essential element of the theme or décor of the overall room. The perfect granite vanity top will provide a seamless marriage of aesthetics and functionality.
Whether you are replacing the vanity top in your family's master bathroom just off from the master bedroom in the home, or you are looking to add a powder room under the stairs, granite is the right answer for a choice of vanity top. This is because no other material holds up to the harsh conditions that a bathroom doles out, especially if the bathroom has a tub, shower, whirlpool, or other major water feature.
Moisture and Bathroom Granite Vanity Tops
Let's take a moment and consider the amount of moisture in a bathroom. Showers and baths lend humidity to the air, especially if the temperature of the water is steamy hot. A leaky sink or toilet could cause mildew and mold to grow. Cleaning supplies are liquid and therefore moisture-based as well. Granite is porous and can soak up a wide variety of moisture like nobody's business.
However if you have the counter top for your bathroom vanity professional sealed by a professional, which is highly recommended, then it will not only resist moisture, but also things like mold, mildew, and stains. The bathroom is one of the most challenging rooms in your home so you need a material that is going to hold up to the harsh demands. Granite is that material and more.
This is because granite vanity tops for the bathroom are eco-friendly materials. They are literally pieces of slab stone. They contain no chemicals or other harmful products that will make you regret buying them. A granite countertop can be recycled for these reasons as well, should you ever decide to switch it out for a new one.
What to Look for Before Choosing a Granite Top
The last thing you want when buying a new vanity top is to make an impulse decision that you regret later. Granite will outlast any other material in the bathroom. When you make the choice of buying a new granite countertop, then you could be choosing something that lasts for the duration of your family's time spent in that home and beyond.
Now that you know about the durability and the sustainability of granite countertops, it is important to know about their aesthetic qualities. Granite is available in solid colors as well as pattern. Think about the décor in your bathroom right now. Then think about how it might change in the times ahead.
The bathroom is one place where you can go wild with colors and textures, but if you ever plan to move then you might want a neutral colored granite vanity top. Then you can let the wall color and other décor choices speak for themselves along the lines of whatever theme you want to achieve. Take pictures of your décor before going to pick out a granite countertop for the vanity in your bathroom to help you make your final selection.
It also helps to know who will use the bathroom. Solid white might go better in a master bath used by adults, while multi-hued designs might work out best in a family-sized bathroom used by people of all ages. This may be something you want to talk over with the granite showroom representative. Either way, your new bathroom vanity granite countertop will be just as durable and easy to maintain as ever.
Maintaining a Bathroom Granite Vanity Top
Keeping the granite top on your family's bathroom vanity clean is so easy. Even children can pitch in and take care of this chore. Just keep a spray bottle of clean water and mild dish soap under the sink. When it comes time to clean the counter, just spray on some soapy water and wipe clean with a damp, soft washcloth. It really is that easy.
Because your bathroom granite countertop will have more exposure to humidity and moisture than one in a kitchen, be sure to talk to the representative about how this affects sealing. Find out if you need to have it sealed more often, and ask for other tips on how to best maintain it so you can preserve its maximum lifespan.