How to Care for Your Black Galaxy Granite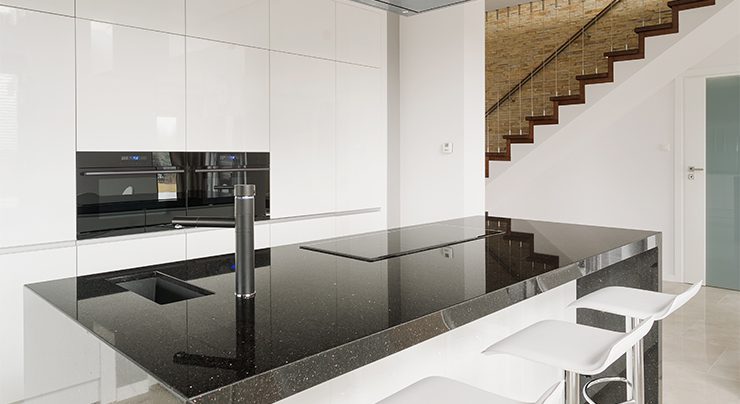 Granite comes in many different styles and colors. It receives its natural beauty from the earth. The colors that you can purchase slabs of granite in are unbelievably diverse. From bright whites to beautiful blues, you can find a style of granite to suit any home.
Some of the most beautiful styles of granite come in rich black colors. One of these black stones are called black galaxy granite. This is a gorgeous color that is easy to match with many types of kitchens. You can create complementary and contrasting styles in your kitchen when you install black granite surfaces. Whether you choose colorful kitchen cabinets or neutral colors, you can create a work of art in your kitchen with black galaxy granite.
Black galaxy granite, or star galaxy granite, is one of the most popular colors of granite installed in homes. It provides a beautiful contrast with stainless steel appliances. It works well as a surface or as flooring. It comes in both slabs and tiles. Black Galaxy granite is one of the hardest types of granite. Not only is it a durable type of stone but it is also one of the most affordable types of granite. Black granite is usually mined in India, and this often makes it more affordable than European and American granite.
Black galaxy granite comes in three main types. These types will depend on the size of the other color variations in the granite. These are generally gold in color. Black galaxy granite may have large, medium or small gold highlights. This golden colored accent comes from Enstatite, which is a type of bronzite.
The most important thing to remember when you install granite is that you must care for it properly. Granite is a very strong and robust stone. It will stand up to the test of time in both durability and beauty. However, no stone can resist every bit of damage. The following article contains a guide to caring for black galaxy granite.
Keeping Your Granite Clean
Keeping your granite clean is one of the best ways to extend its already long life. All you need to do is wipe up any spills promptly, and treat it with care. Avoiding bad habits is the best way to keep your granite in great condition. Make it a point to clean up even small spills right away to prevent the possibility of the spill being absorbed by the stone. You should also try to use coasters for liquids in glasses, cans and bottles. Even though it is possible just to put hot pans on granite, doing this over a long period will be bad for your granite. Try to use hot pads underneath the pan just in case. You should also using cutting boards when cooking to avoid any minor damage to the stone and to save your knives the extra work.
Even though granite is a naturally clean surface, you should clean it manually at least three times a week. The best way to care for black galaxy granite is to clean it with a soft cloth and a mild detergent. Dish soap or detergent is a great option for cleaning granite. To begin, mix the soap with some water. Then, dampen the cloth and wipe the area. Don't apply huge amounts of pressure. You should also try to work in a circular motion. This will help you remove as much of the dirt or grease as possible from the surface.
You should avoid using many commercial cleaning products on your granite. These solutions are very abrasive, and they can cause damage to the surface of the granite. They can cause discoloring on the surface or even scratch the granite.
You should also use a soft cloth rather than a scrubbing brush or an abrasive cloth. It may be tempting to take a scrubber to a difficult stain but in reality you may do more harm than good to the dirty area if you use this method. A soft cloth will help you keep the area clean without causing much damage.
Black galaxy granite will provide a beautiful look in your kitchen for many years to come. By caring for it properly, you can extend the life and beauty of your kitchen surfaces.