Kitchen Island Designs – What You Need to Know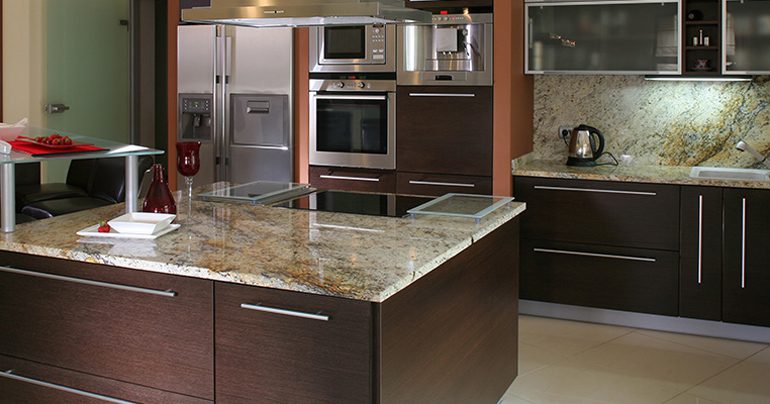 One way to add counter space to a kitchen is by implementing an island. While it may seem that kitchen islands are pretty standard, nothing could be further from the truth. In fact, kitchen islands come in many shapes, sizes, colors, and have varying amounts of counter space and storage. If needed, they may also include sinks, ovens, ranges, and other appliances. Add some counter overhang and seats and suddenly your kitchen island is now a social area where you can chat and cook at the same time. The following are some things you need to know about kitchen island designs.
Size, Space, and Shape
The size of your kitchen is the first step in determining the size of the island within. There is no minimum or maximum size that an island should be, but it should look proportional while affording enough clearance space all around and certainly enough space to be busy in the kitchen without feeling too cramped. There should be at least 3 feet of space between the island and parallel counters and 4 feet between the island (if there is a sitting area) and the wall. Ideally there should be between 4 and 9 feet of space between working spaces. Working spaces may include a food preparation area, cooking area, and the refrigerator. It is also known as the "working triangle". Small kitchens may simply not have enough space for an island, but if additional counter or storage space is needed, there are always rolling carts that can be stored to the side until needed.
Height of the island should be enough to do food preparation activities comfortably. The island design may incorporate two heights: one for the cook and one for the guests on the opposite side of the island sitting, the height depends on whether the guests are sitting on bar stools or dining chairs.
Not all islands are square. L-shaped and T-shaped islands integrate dining by simply adding on a dining table to the middle or end of the island. Curved islands look smooth and modern while still having the ability to seat a small number of guests.
Types 
Types of islands result in variable working conditions. Working islands are mostly open and really only have drawers. They are designed to look like large tables, so there is not much of a way to hide things or much storage space. In contrast, storage islands are essentially a group of cabinets connected by a countertop. These can store a lot, but there is no space inside so no way to install utilities. Prep and wash islands include a sink and durable countertops. Often the sink is a tuck bar sink. Units like this can be longer than 4 feet, so it can be expensive, especially if planning on getting a granite countertop put on. However, they do have a lot of storage for pots and pans and other food preparation items. Dining islands have areas for food prep and cooking and a spot for guests to dine. They may have a large over hang and there should be at least 24 inches of counter space for each chair. Cooktop islands are those with a range installed. The benefit to cooktop islands is that the cook can socialize while preparing dinner. On the downside, there are issues to having the range more in the center of a room instead of against a wall. They cost more to ventilate and often have special ceiling ventilation systems put in place. Because of this, cooktop islands typically cost more than the prep and wash stations and the price may not even include the price of the range. If you want to be able to socialize with dining guests and use the cooktop, it is best to have a raised dining area so guests are not exposed to flames and other potential cooking hazards. Since the dining area is raised, bar stools will be needed. Unlike traditional seating, bar stools do not require much knee space to use and so the overhang may be smaller than those in simply a dining island.
The type of countertop needed is another consideration. A common choice is granite, but stainless steel, butcher block, and wood are other options.
Additions 
There are some additions to the island. Dishwashers make a great accompaniment to a prep and wash island with sink. The dishwasher may even be put right next to the sink to even further reduce time spent moving from the sink to the dishwasher. Some islands even have refrigeration units installed. A normal small-sized refrigerator might be a convenient option to store most-used cold foods. A wine cooler or built-in wine racks or shelves may be the perfect addition for any wine lover. For appliances, built-in cubbies are useful for keeping them off the counters for more working space.