Modern Kitchen Islands – Why Your Home Needs One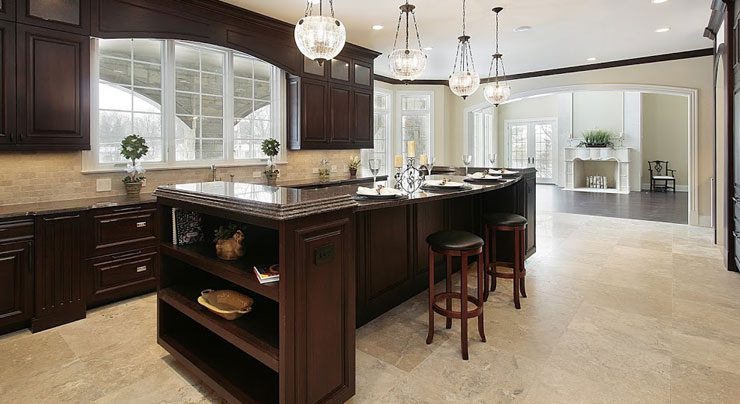 Storage, display, functionality. These are three words that you need to think about when trying to figure out whether or not your home needs a kitchen island. The truth is, most
kitchens lack all three elements, especially those kitchens without a kitchen island.Fortunately, you can gain storage, display, and functionality just by adding a modern kitchen island to your current kitchen.
There are a variety of different kitchen islands you can choose from, including a mobile island and a built-in island. A mobile island is great for small kitchens, as you can move it out of the way when not in use. If you have a larger kitchen, consider a built-in island, as it will really enhance the look and functionality of your kitchen. If you are still unsureabout why your home needs a kitchen island, check out these benefits – you just might be surprised at what you can gain from having a modern kitchen island in your home.
#1 – Additional Cabinetry Means Additional Storage
There are very few homeowners who are satisfied with the amount of storage they have in the kitchen. By adding a modern island, you are gaining additional cabinet space underneath, which increases the amount of storage you have. Island cabinets are great for storing small appliances, such as a mixer, crockpots, roasters, and large pots and pans that are not used often, but you have nowhere else to put them.
If you have enough space for the majority of your kitchen items now, you could always opt for open shelving on the island. This is a great place to store and display decorative items, or even your cookbooks, while allowing you to have quick access to your favorite recipes while you are cooking.
#2 – Great for Families with Kids
Whether your kids need a spot to do homework, work on craft projects, or just like helping in the kitchen, an island is a great option. It provides additional countertop for activities just like this, and often has seating that is the perfect height so the kids can help you with food preparation. In addition, if you choose granite countertops, the island surface will be durable enough to withstand the spills and everyday wear and tear that kids will put your island countertop through.
In addition, if you and your kids have a lot of electronics – cell phones, tablets, video game systems, you could choose to install a charging station in the island shelving. This will allow you a space to charge your electronics without the mess of cords and devices all over your countertops. Consider adding a multi-outlet option so that no one is fighting for outlet space, and you never run out of battery power.
#3 – Extra Seating
When you are having guests over, you have probably thought about how great it would be to have a larger dining table, but you realize that it is just not feasible with the amount of space you currently have. Adding a modern kitchen island will give you not only the additional counter space, but additional seating. In many instances, you are gaining at least two additional seats, but depending on the room you have, you can add anywhere from four to six additional seats without causing your kitchen to feel overcrowded. In addition, having seats at your island can make a great spot for a quick breakfast before school, or a spot for kids to sit and do homework while you are getting dinner on the table, keeping everyone in one room together.
#5 – Kitchen Amenities
If you are a person who loves to cook and entertain, a kitchen island is essential. With a built-in kitchen island, you can include a sink or stovetop to give you even more room for cooking. In addition, if your budget allows, you can add refrigerator drawers to the island to give you quick access to the cold items you use most while cooking, such as butter, milk, and eggs. Furthermore, you can opt for pull-out shelving that stores a large stand mixer, and pops up when you need it. This keeps you from having to lift the heavy appliance, and keeps it tucked away when not in use! The possibilities are endless with adding amenities to your island, as long as your kitchen has the room.
Now that you know the many benefits of a modern kitchen island, you probably realize why your home needs one. Whether you could benefit from extra storage, additional seating, you have kids, or need more food prep area, a kitchen island is exactly what you need.
When thinking about adding a kitchen island, make sure that you have enough room to move effortlessly around it – you want to avoid overcrowding the kitchen, especially if this is where your friends and family gather on a regular basis. Check out a variety of different sizes, shapes, and styles that are available before making your decision. If choosing a built-in style, consider the endless possibilities if you add plumbing and electrical components to the island.