Spotlight on 3 modern kitchen designs
For all of its use and foot traffic as one of the most frequented areas of the home, the kitchen is often one of the more overlooked areas of the home when it comes to decorating or remodeling. One of the reasons for this is the hefty price tag that many homeowners assume will come along with a kitchen update. Another reason people drag their feet in renovating their kitchen is the fear that they will get started with the project and then fizzle out in terms of creativity, inspiration, or energy.
While those things can definitely become an issue, it does not have to be that way by default, it is possible to modernize your kitchen affordably, and it is also possible to create a kitchen design and aesthetic that is visually appealing and wonderfully functional without losing your steam halfway through the project.
Below are three of some of the most gorgeously usable modern kitchen designs that you will ever see, as well as the reason why they are so effortlessly amazing. With these ideas in your back pocket, all that is left is to pick a style and an overall design layout that works for your individual needs and then go for it!
The Island Oasis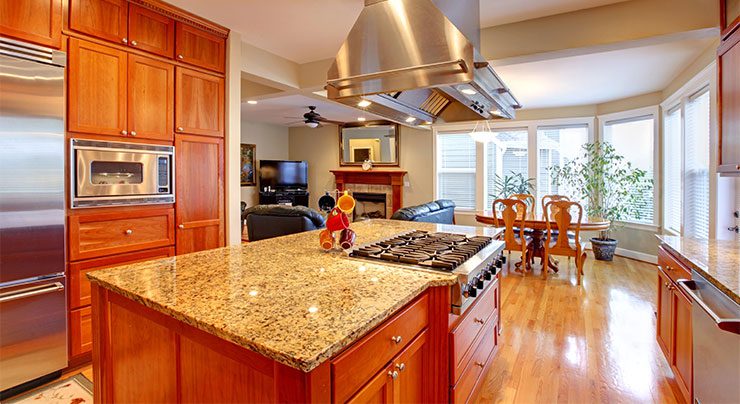 No modern kitchen would be caught dead without ample counter space, which is why this kitchen layout depends heavily on the use of a double-duty kitchen island. Some of the most popular islands utilize either a beautiful granite countertop or a utilitarian butcher-block countertop – but of course you could opt for multiple counter finishes, including stainless steel for a sleek, minimalistic look.
Not only does a kitchen that features a center island add valuable workspace for meal prep and dining, but it also maximizes the storage potential of the kitchen. You can use your island to store baking tools, pots and pans, cookbooks, or even arts and crafts to keep kids entertained while you make meals. You can also opt to have open-concept shelving where you display things that you find beautiful or for easier access to the kitchen tools that you use on a regular basis.
This setup also allows for 360-degree workspace and accommodates multiple chefs in the same kitchen. This can be especially beneficial for larger families or for people that like to entertain via dinner parties or cocktail events in their home. It allows people to work together in tandem without the awkward ebb and flow that can plague a kitchen with a bottleneck design.
The Small But Mighty Workspace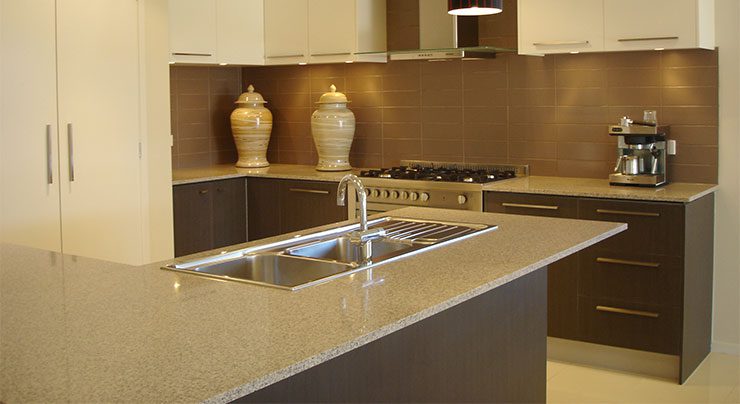 Not everyone needs a workhorse of a kitchen. In fact, there are many people that vastly prefer a smaller kitchen space that allows more room in the rest of the home for other things, such as a family room, entertainment area, or dining room. If you find yourself longing for a compact kitchen, then this is for you!
Aside from its small footprint, a smaller kitchen can mean saved time and more efficiency. With much of what you need to prepare a meal within arm's reach, you can effortlessly cook breakfast, lunch, or dinner in a snap. Cleanup is much simpler in a small kitchen as well, and who doesn't like that?
A small kitchen does not have to lack in amenities, though. There are many appliances that re-size well to work within a more compact layout, including drawer dishwashers and cabinet-mounted ovens. If you are creating a small but mighty kitchen, you will also want to consider built-in areas for your smaller appliances that you use often so that they can be easily accessed when needed, but then tucked away afterwards so as to not clutter your countertops. This could include your toaster, coffee maker, and even a stand mixer.
Luxury To Spare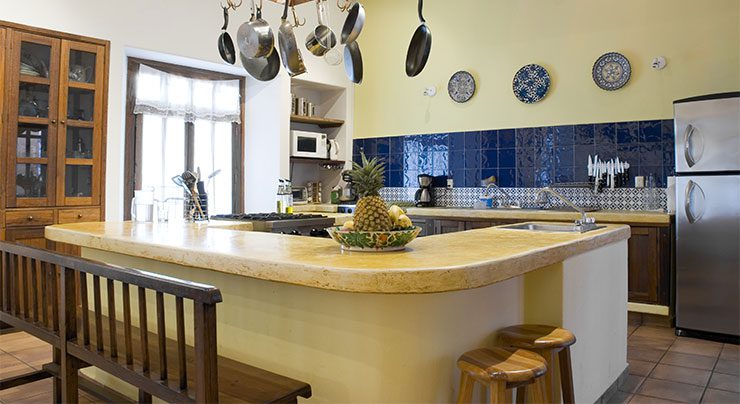 If you are hoping to spice up your kitchen with luxury galore, look no further than the finishes and specialty tools that are cropping up everywhere. From touchless faucets to central vacuum systems, there are tools, appliances, and gadgets that will put your kitchen well into luxury territory without breaking the bank.
One great way to add pizazz to your kitchen is to add a bold splash of color. Perhaps you want to try a vibrant red on your cabinets, or go for a fun tile pattern on your backsplash. Or maybe you want to up the ante with your lighting, opting for a gorgeous, eye-catching chandelier.
Another effortless way to take your kitchen to the next level is to incorporate an incredible sink. Whether you go for farmhouse chic or opt for a 3-basin commercial giant, the end result will be the same: a unique kitchen workspace that looks just as good as it performs.