Traditional Thanksgiving Dinner on a Budget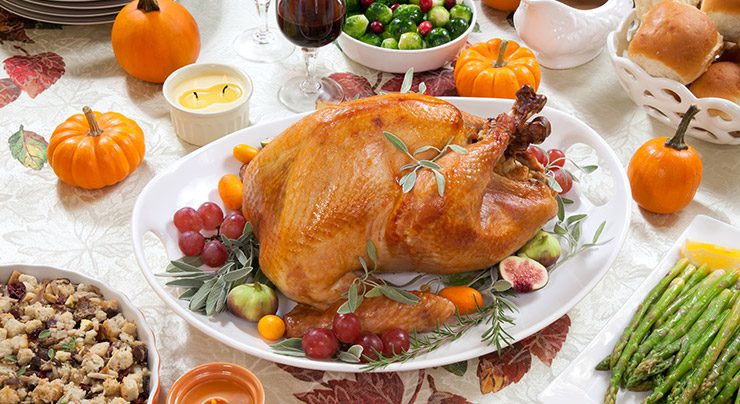 Thanksgiving Day is a national holiday that takes place on the fourth Thursday of November every year. While there is some debate over how and when this day became a holiday, many agree that it is based upon the feast of thanks held between the Pilgrims and Indians nearly 400 years ago. During that time, these two groups gathered together and feasted on the bountiful harvest of the season for three days.
Today, Thanksgiving is similar, in the fact that many Americans gather around with friends and family to feast on a large meal. Unfortunately, the meal tends to break the bank for many, the host and/or hostess in particular. If you are the person hosting this year's family Thanksgiving you know all too well what it can do to your holiday budget. Fortunately, there are ways you can save your wallet from the pain and have an amazing feast spread out across your granite countertops this season. Take the time to discover how you can have a traditional Thanksgiving dinner on a budget.
The Turkey
You are definitely going to need a turkey for Thanksgiving. After all, it is the center of the entire meal. Not only can you save money on the turkey itself, but save yourself some money on how you cook the turkey. When it comes to obtaining yourself a turkey, the first way to save money is to harvest your own. If you are an avid hunter, and your state allows, fall turkey season typically comes just in time for Thanksgiving. Essentially, you can obtain a turkey for no more than the cost of a permit.
If that is not something you are up for, you can purchase a turkey. Avoid the hub-bub of a high-priced brand and opt for a supermarket turkey. Typically, you can find one for around $2.00 per pound, which is relatively affordable. When it comes to cooking your turkey, stick to a simple brine, which you start three days before Thanksgiving for ultimate flavor. No fancy seasonings are needed and a homemade brine is relatively easy to make.
Start From Scratch
You would be surprised at home expensive it is to cook using convenience foods. Homemade pie crusts, mashed potatoes, pumpkin pie, noodles, and more can all be made for a fraction of the cost of boxed or frozen items. Some of these items can be made ahead of time and frozen to make your Thanksgiving day run more smoothly.
Plan Your Menu Accordingly
If you want to have the feast of a lifetime this Thanksgiving without breaking the bank, you want to make sure you plan accordingly. It is recommended that you plan your menu to meet the foods of the season. For instance, avoid making dishes with artichokes and asparagus. These items are more expensive this time of season, where Brussel sprouts are plentiful and cost much less. Pay attention to the price of fresh herbs compared to dried herbs. You would be surprised to discover that during the holidays fresh sage can be more than $1.00 less than dried sage per ounce. It is the little savings that will add up to an overall amazing savings.
Potlucks Are a Great Money Saver
If you have a lot of guests coming, divide up the side dishes between them. A potluck is a great way to get everyone involved in the holiday cooking and keep some extra cash in your wallet. It is recommended that the hosting family serves up the turkey and a few of the side dishes or desserts, but leave the extras – sweet potato casserole, coleslaw, appetizers – to your guests. You will be surprised at how willing people will be to help – if you just ask.
Keep Décor to a Minimum
Your family and friends are showing up to eat your food – not look at your décor. However, if you want to 'dress to impress' with your home, you can do this on a budget too. Consider making homemade décor from natural items that can be found outside your home. For instance, your leftover Halloween pumpkins can be transformed into dining table centerpieces. In addition, glass jars filled with pinecones from your backyard make great additions to your granite countertops. These little touches can go a long way without breaking the bank.
As you have discovered, there are some pretty simple ways to save money this Thanksgiving. Take the time to check out different prices, which is much easier if you start shopping early. Avoid high-priced turkeys and convenience food, and do not waste your budget on extravagant décor. Be sure to stick to foods that are readily available during the month of November, and if all else fails, ask your friends and family to pitch in, serving up a potluck. Most importantly, have a Happy Thanksgiving.