Adding a Splash of Color to an All-White Kitchen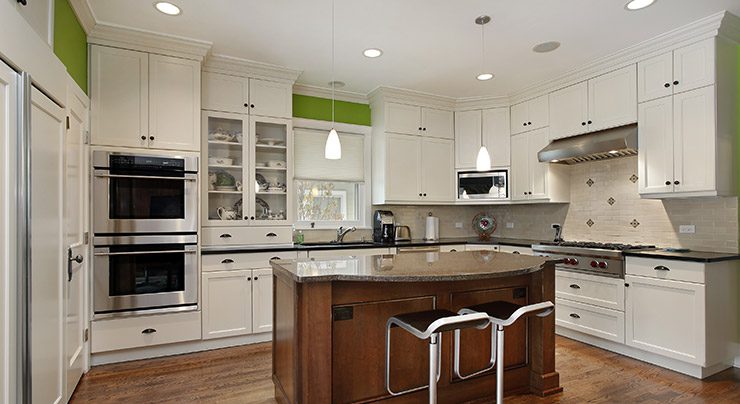 The kitchen can easily slip into the role of the heart of your home for a variety of reasons. Beyond the delicious culinary creations that have the potential to be born in this space, it's a room families often utilize for gathering, talking and socializing. As a central family and friends hub, it's no wonder that so much time and effort is put into kitchen design and décor. Enter the benefits of designing an all-white kitchen in your home.
With pristine and clean lines, a fresh feel and the advantage of appearing ultra-spacious, an all-white kitchen can be a very inviting strategy to creating a space that welcomes a social lifestyle. If your kitchen plays host to a variety of foot traffic throughout the day, white décor is a good option for spotting those small spills and messes that need to be cleaned up quickly in order to keep your kitchen in the best condition possible over the long term.
That being said, a little color can go a long way when you want to add some visual stimulation to your kitchen décor—especially in an all-white kitchen. Not to mention the fact that adding that color in a creative way can function as a great conversation starter when friends come to spend time in your home. In the name of tactful color additions to your all-white kitchen, here are some creative tips and tricks when just a splash is needed.
Unexpected wallpaper
Placing a pop of color where's it's not usually found is a great way to go about spicing up your all-white kitchen in a subtle way. Try adding a swatch of colorful wallpaper to the front of your kitchen cabinets to create a stunning visual focal point that doesn't distract from your white lines. Looking to the long-term, wallpapering the front of your cabinets can eliminate the need to repaint those cabinet doors that have a tendency to chip with use over time!
Add an accent chair or two
Adding an accent chair to your all-white kitchen is an easy and flexible way to add a splash of color. Choosing bold colors like red or teal will really make a visual statement and when you're tired of the color, simply switch it out or paint over the top to keep your kitchen on the cutting edge of interior décor.
Bringing exterior décor inside
While they are most often associated with the outside of your home, adding a set of brightly painted shutters to your primary kitchen windows is a fun way to create a homey and vibrant effect in your all-white kitchen. Easy to install and just as easy to change out and repaint, this is a pop of color that will take your guests by surprise and add some unique style to your décor.
Upgrading to granite
A great way to add a splash of color and also upgrade your all-white kitchen's overall value is to change out your kitchen island countertops for granite. Available in a variety of bold and beautiful colors, a granite island countertop is the ideal addition to your all-white kitchen. Not only will it incorporate an ultra-durable surface into the functionality of the space, but it will add a sleek and stunning aesthetic appeal to your décor. Easy to maintain and built for longevity, a granite island countertop can make a big statement in seamless fashion.
Plates that make a statement
Wall décor is a fantastic way to add a splash of color to your all-white kitchen. Pick up a few fun, creative and colorful ceramic plates at your nearest craft or home goods store and simply mount them where you love them most! It's an easy way to bring some color into your kitchen without taking away from the fresh feel that white décor creates in this space. Similarly, plates can be purchased that incorporate a little culture into your kitchen. Try picking out a few Talavera tile plats to give your pop of color a Mexican twist!
Incorporate taste into tile
When it comes to adding a pop of color into your all-white kitchen that manages to incorporate your individual taste into the décor, you can't go wrong with granite tile. Just as bold and beautiful as granite countertop slabs you use on your countertops or kitchen island, granite tile is the perfect, colorful addition to any kitchen backsplash. Boasting vibrant hues and options between smooth and textured surfacing, granite tiles will bring a colorful edge to your backsplash and kitchen overall. If you've already added a granite island countertop into your décor, even better! The combination of the granite countertop and granite backsplash tiles will create a seamless color palette that will enhance the beauty of your all-white kitchen when the final product is revealed.