Top 5 Reasons to Remodel This Spring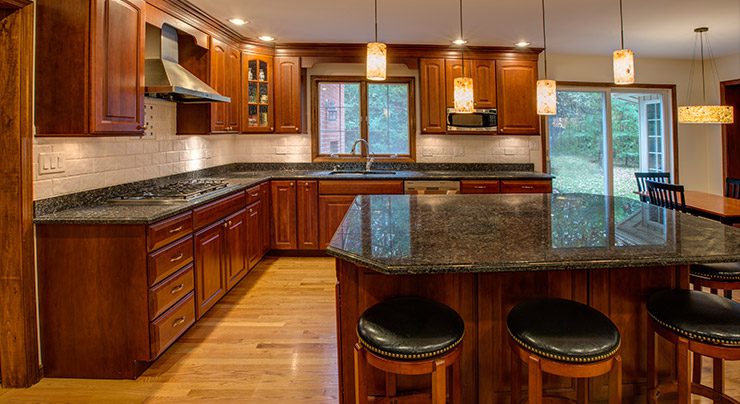 Our homes can mean many different things to us depending on our particular lifestyles. For some homeowners, their homes are a functional space meant for durable living and lots of activity on a daily basis. For others, home is an oasis away from the rest of the world. Over time, it becomes a testament to relaxation and Zen. For others still, the home is the heart of the family. It's the place you buy to have and raise your children. Whatever home stands for, it's definitely a place worth investing in over time.
Dedicating personal time to renovating your home is a way of keeping up with the walls that house those you love the most. While renovation is an investment of both time and money, it's also a way of ensuring that your home keeps up with your future plans. Whether you plan on spending your retirement in your current residence, or have big plans to sell, a strategic renovation will boost your home's value and create a sense of personalization that won't be found anywhere else.
With winter on its way out and spring sliding onto center stage, there's never been a better time to remodel your home. Now is the time to take all of those creative ideas you've been wanting to implement and make them a reality. From kitchens to living rooms and every space in between, here are the top five reasons we think you should remodel this spring.
Optimizing on energy
You're going to feel a renewed sense of energy, that isn't uncommon when spring time rolls around. While some might dust it off as just a silly notion, behavioral changes associated with the seasons have a real impact on many people. If you're someone who feels the need to renew life and energy when winter turns to spring, use it towards creating a space you love and will use! The best remodeling projects happen when you're mind and body are one hundred percent involved every step of the way. Take advantage of your newfound go-to attitude and put those long-awaited ideas down on paper. You'll be amazed at how quickly things come together with a positive, spring time outlook on renovation.
Substitute out the synthetic
Spring time is the perfect time to substitute out your synthetic surfaces for granite countertops. There's never a better time than right now to invest in quality and longevity in your home. The buyer's market is great and working on resale value today for buyers tomorrow is smart any way you spin it. Even if you're not looking to sell, upgrading this spring to granite countertops that are built to last means you'll save in the future on having to complete small repairs and moisture damage that has a tendency to come along with synthetic surfaces that naturally wear out over time.
Where there's good weather, there's a way
Take advantage of the weather and see your remodeling project in a whole new light! Not only does great weather give you the advantage of not having to crank your heat or air while you work, you have the benefit of fresh air to balance out any fumes or saw debris you encounter along the way. Similarly, you can keep items outdoors while you prepare space for installation and not have to worry about protecting them from severe elements. Beyond that, spring time gives you the chance to enjoy a humidity free remodeling experience and for many homeowners, that's the biggest selling point of all.
Take advantage of all that time
Starting a remodeling project in the spring gives you the time you need to either finish a project or see how it holds up during the summer and fall months. This makes for a panic-free situation all around and also gives you more time to enjoy and evaluate how different seasonal lighting affects certain features like new granite countertops you may have installed. Granite naturally picks up and reflects a variety of undertones depending on the light it's under. Being able to see these changes starting in spring will give you a great idea of how to change up décor as lighting naturally changes in your home.
Surprise savings!
Take advantage of spring savings! Many manufacturers reward those who are early to the remodeling game with special discounts on items and home features you love. Knowing this ahead of time gives you every reason to take the opportunity for savings if it comes your way. In addition, you'll have a larger selection to choose from if you get there before the summer remodeler rush. Having a larger selection on home features such as cabinets, granite countertops, appliances and trim means your remodeling project will be that much more personalized to your own unique taste and style. When you put all of these factors into one large, comprehensive package, there's no reason not to remodel this spring!