Choosing the Perfect Flooring for your Kitchen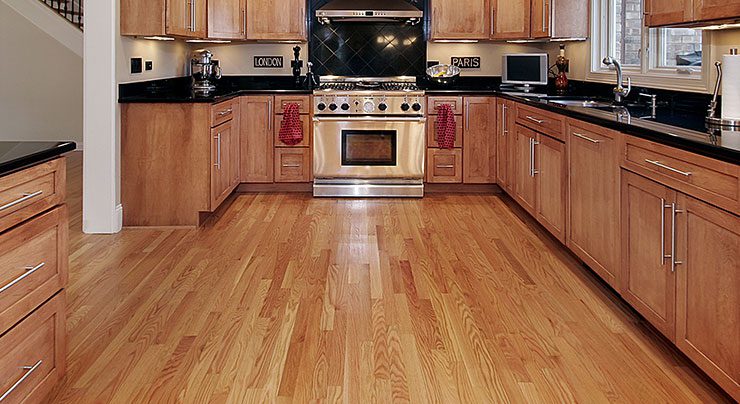 Your kitchen has many uses. Many times it will double as a place to entertain friends or family for dinner, or it will serve as a spot for kids to do their homework or arts and crafts. It is also the focal point in the home for family members to prepare and share meals together. A million footsteps will be made throughout the kitchen, chairs will be slid across the floor's surface, and there will be spills from foods and liquids. Picking the perfect flooring solution for your home is vital not only for appearance, but also for optimal functionality.
In addition to being practical, you need flooring that looks good but also makes a statement in your design. Your flooring choice will affect every element of your kitchen, and  with the variety of textures, colors, and materials that are available today, your choices are virtually endless.
Stone or Tile
Tile or stone is a perfect choice for high traffic areas. Not only is tile durable, it comes in a variety of styles and colors with options for decorative borders. It is also easy to install yourself if you prefer, and it looks fantastic when paired with other stone in the kitchen, such as a granite countertop.
Porcelain
Created with color all the way through, porcelain is available in many shapes, styles, and colors. Printing techniques that are high-definition can be used to replicate a natural stone or hardwood look that is flawless. Porcelain is harder than regular ceramic tiles so any damage will be less likely shown.
Limestone
Limestone is an all-natural stone that will give you an Old-World type of look. This stone is porous, so it will need to be sealed when it is initially installed and then re-sealed up to twice a year.
Cork
Cork is a versatile, durable material that comes in a variety of color selections. It reduces the impact of noise and it is water resistant. It is also a natural product, making it a fantastic choice for the eco-conscious homeowner.
Wood
As one of the most popular choices for kitchens today, wood not only feels good underfoot it offers a look that is warm and inviting. Wood floors can handle heavy foot traffic and water stains. An alternative is high-pressured plastic laminate that looks like wood and that will offer a price that is more affordable.
Laminate
Laminate flooring will give you the wood look you want to achieve in your kitchen without breaking your budget. It comes in a myriad of finishes and it is easy to maintain. It is an excellent option for a kitchen that is high in traffic, and it goes with many popular kitchen designs as well.
Vinyl
Vinyl flooring comes in a variety of colors and styles. It is available in tiles or sheets for easier installation, and – while it may not have the ongoing return on investment that, say, tile or wood flooring has – it is still a versatile option for homeowners on a budget.
Travertine
Available in honed, polished, brushed, or tumbled looks, travertine truly brings a rustic interior together. It looks like old stone pavers, with finish options that can bring forward distinctive looks depending on the end look you are tryign to achieve.
Slate
For high traffic areas, slate is an excellent choice. It has a smooth, dense texture that makes it moisture-resistant and durable. It will take some getting used to on bare feet, but there are definitely more pros to this choice than cons. Slate will give your kitchen a rustic, vintage look that is aesthetically outstanding and it also has a high return on investment, too.
Bamboo
You can really create a modern kitchen appearance with bamboo flooring. It is sustainable, eco-friendly, and durable, and it also reduces dependence on other types of hardwoods.
Concrete
Growing in popularity, concrete is a viable alternative to tile or stone that adds in some old world character and distinctive style to your kitchen's appearance. It is an excellent highlight to creating a kitchen that is ultra-modern, especially depending on the color you select for your stain. It is versatile as well as durable, making it one of the top choices out there.
Durability and ease of maintenance and cleaning are two of the key qualities in making any flooring selection. Having pets and children who are active will also push these factors to the limit. Style is another key factor to be considered. You want to make sure that the flooring you choose will fit in with the other types of flooring in your home. Are you going for comfort or would you rather have an appearance that is striking? These are all things to think about as you begin searching for flooring choices.
Cost among flooring choices will vary widely. Generally, stone, wood, and bamboo can be more expensive than purchasing laminates, vinyl, or even porcelain tiles. Be sure to consider your budget carefully when making your selections. Also factor in the time it will take for the installation to be completed, since it will make it difficult to carry on with kitchen business as usual during that time.
Kitchen floors take a beating in many homes. From moving furniture across them, to kids at play, and family pets running about it is important to make a selection that is going to last for the long-term. Consider your kitchen in relation to the rest of the areas in your home. Cleaning and maintenance are additional considerations to factor in as well. No matter what choice you make, be sure to take your time and make the best choice for you and your home.