Master Bath trends for 2015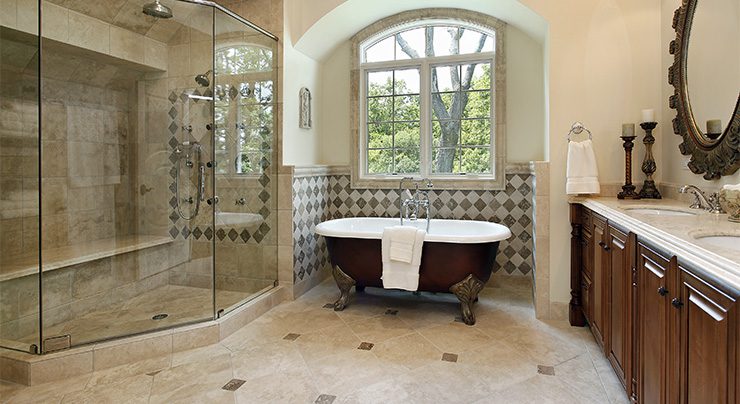 Every year new trends emerge in the area of home renovation. From countertops to sinks and front doors to hardware finishes, there are always a few trends that stand out from the rest in terms of popularity and overall return on investment.
Below are six of the hottest bathroom renovation ideas for 2015; no matter where you live or what kind of home you live in, these winning master bath trends are sure to take your bathroom to the next level.
1. Awesomely Epic Floor Tiles
According to the pros over at Houzz.com, statement­worth floor tiles are a hot ticket right now when it comes to bathroom makeovers. The trend came onto the scene in 2014 and is continuing to see a huge surge in popularity. An interior designer the site interviewed says, "They (floor tiles) are stunning and provide a great design opportunity when working with challenging bathrooms that have no clear walls for a feature wall…in smaller bathrooms a feature floor tile adds style without overwhelming the space, and when used in a larger bathroom, the effect is elegant."
2. Heating From The Ground Up
It is no surprise that warmth soothes us. This is especially true on cold days or right after we get out of the tub or shower. For this reason, one of the top trends in 2015 is radiant floor heat and heated towel racks. The experts at DIY Network say, "Sometimes luxury can come in the form of a little extra-added warmth. Warm toes and a warm towel can make all the difference on a cold winter's morning. Radiant floor heat is energy efficient because the heat is touching your body, warming you from the bottom up."
3. Luxury Shower Experiences
Showering has turned a corner in 2015 – going from a daily to­do item to an unforgettable experience that is both relaxing and invigorating all at the same time. From showers with built­in colors and lights or aromatherapy options to multiple shower heads, the choices are truly endless. For those that like the idea of a steam room and a shower and a tub combined into one glorious experience, consider the Ariel 701 Steam Shower with built­in whirlpool bathtub. If aromatherapy is more your style, you have two options: purchase a diffuser created specifically for showers – like the Essio diffuser – or install a specialty shower head that is made specifically to house your choice of luxurious scented oils that release into the air and water every time you shower.
4. Find A Freestanding Tub
Going back to the experts at Houzz.com, this trend involves freestanding tubs that are just as much a work of art as they are a functional bathing tool. They say, "When choosing a freestanding bath, consider how the design of the tub will shape the look of your space… they make striking, sculptural design features, but because they help set the mood for rest and relaxation too." If you live vintage style, consider a claw foot tub that will add whimsy and beauty to your space. If you share your master bath with someone, you may want to up the romance ante with a dual­person tub or even place two freestanding tubs side by side, if space allows.
5. Get a Gorgeous Countertop
Nothing sets the mood of a master bath like the countertops. More than just a place to set your toiletries as you get ready each day, your counters reflect a style and beauty all its own. Granite is a fantastic option for any master bath – it seamlessly adapts to any décor style or color scheme and its timeless beauty is second to none. A granite countertop will add incredible bang for your buck in terms of your overall home value as well, making it a great option for both large and small bathrooms alike.
6. White is The New Black
Styleathome.com tapped designer Kelly Deck for some 2015 bathroom design predictions, and boy did she deliver. Bathrooms are getting a stylish overhaul in 2015 and white features are the centerpiece of this movement. She says, "This trend might not work in every space, but I think it's a simple and crisp alternative to using polished chrome when you're creating a light
and airy space." For ideas on how to incorporate this hot look into your own home, consider adding a white faucet or white granite countertops to complete the look. You can also bring white into play with your accessories and décor, including picture frames, soap dishes, and paint.
Don't hold back this year – take your creativity to new heights and create a master bath that will indulge and relax you at every turn. From luxury showers and tubs to simple accessories and paint selections, you can make incredible upgrades to your bathroom that will add value to your home and make your space one that you love being in.